Case Study: Daring Prairie
A spacious custom-built Olathe home honors family, friendship and connection to the land with a modern twist.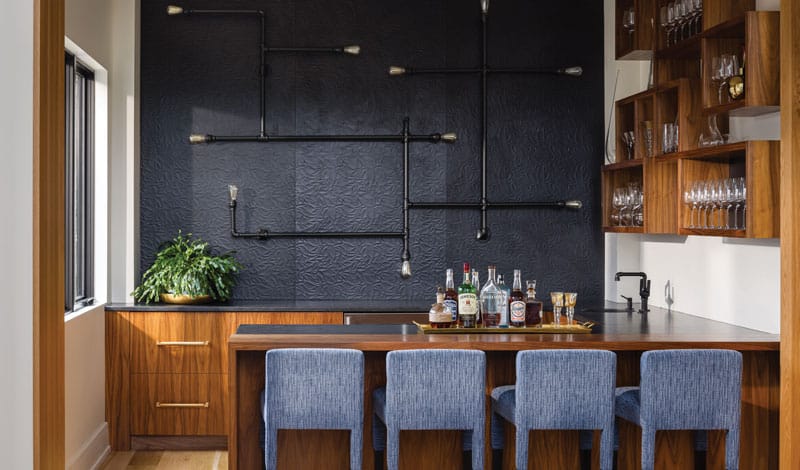 As featured in Design KC Magazine, summer of 2022.
Words by Jessica Bahr | Photos by Nate Sheets | Exteriors by Josie Henderson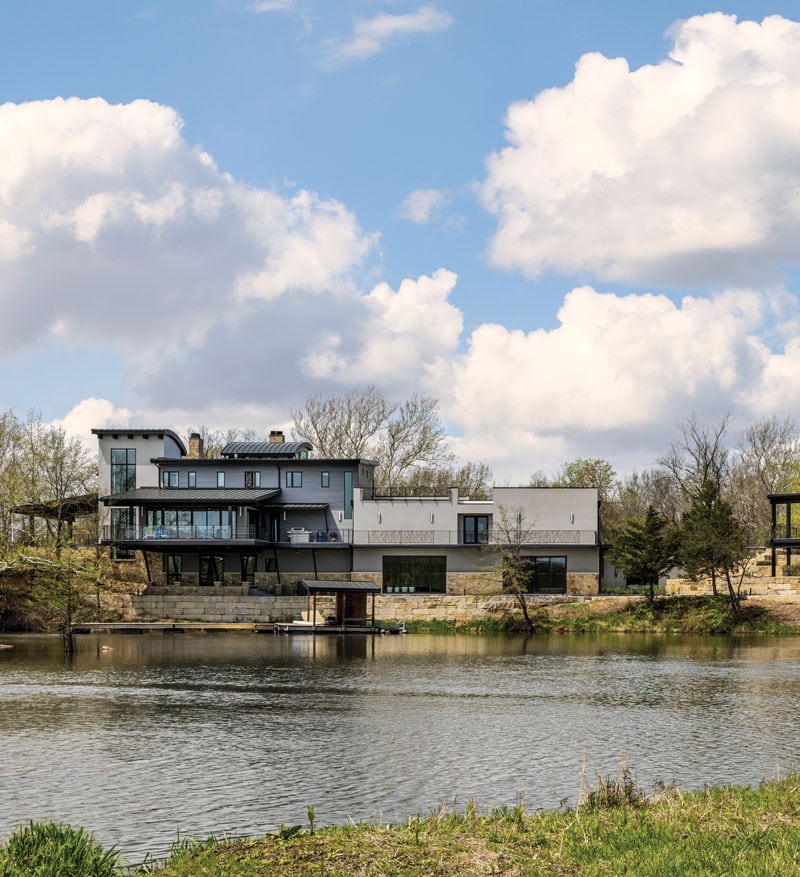 Surrounded by walnut trees and native grasses, and with an expansive pond as its front yard, Jeremy and Nicki Fry's modern-masterpiece home is a tribute to its environment.
"We wanted the house to feel like it really belonged, as if it grew up from the ground," Jeremy says. "It's a bit of a Frank Lloyd Wright idea, and we came in with that as a broad brushstroke … to respect the land as much as we could and try to maintain the natural beauty of the property."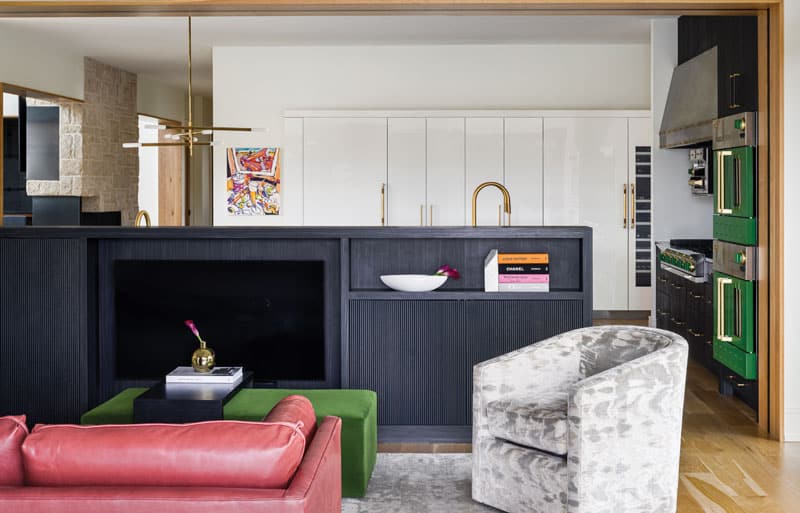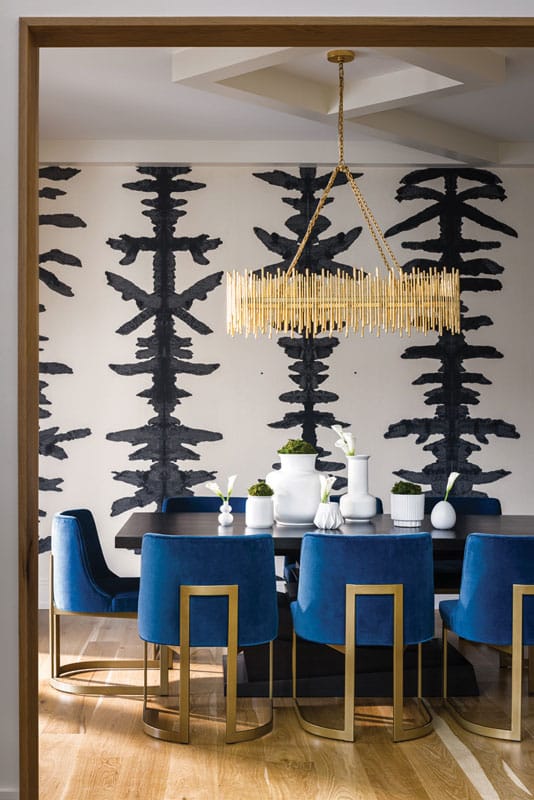 Jeremy's parents had owned it for 30 years, part of the property that included the home he grew up in. His father always had a vision for using the rest of the land for something family-related.
About 10 years ago, they started seriously considering what that dream could look like. There were the inevitable starts and stops along the way, as happens with a project this large and meaningful. But with house plans from Wolfgang Trost Architects, Jeremy and Nicki found partners in Sara Noble and Jessica Gordon of Noble Designs and in Ryan Ray of Cecil & Ray Homes, who made the plans come to life.
With building completed in spring 2021, the result is a pair of homes now poised naturally among their landscape. Jeremy, Nicki and their three children live in the main house, while Jeremy's parents use the smaller of the two as their second home. The elevation of Jeremy and Nicki's home is a variation on the lauded Prairie style, pioneered by architects like Wright and his contemporaries. But where more traditional homes in this vein are low-slung, with their flat roofs sprawling to celebrate the Midwest landscape, Jeremy and Nicki's home incorporates soaring ceilings in the entry and main living area.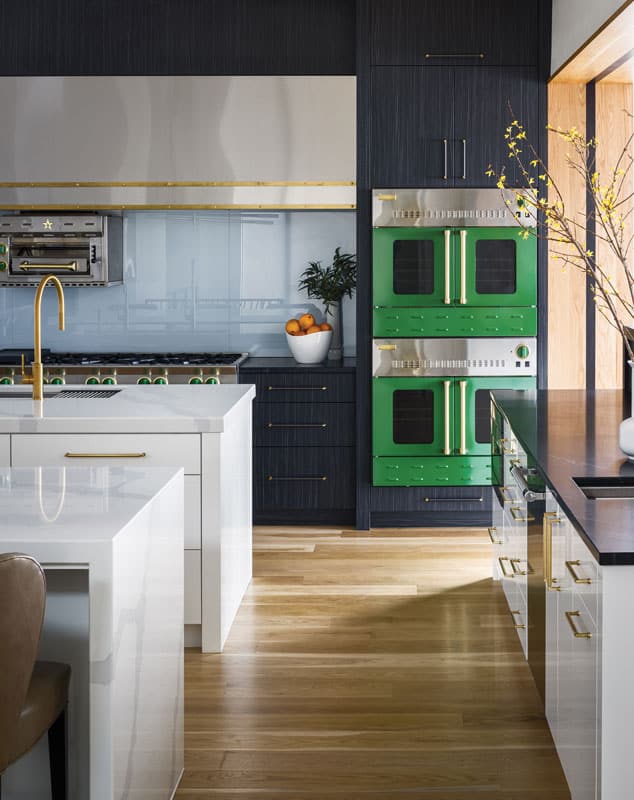 The vertical space allows for windows with generous views of the surrounding woods and water. The style is continued through the interior of their home with refreshingly clean lines and a marriage of locally sourced rustic materials with artisan metalwork. Sara and Jessica worked in a palette of creamy white, watercolor blues, natural-stone beige and a bit of foundational black, with pops of brighter hues here and there.
"Jeremy and Nicki were daring," Sara says. "And they trusted us, which made it a really fun process, where we could be creative and try some new things."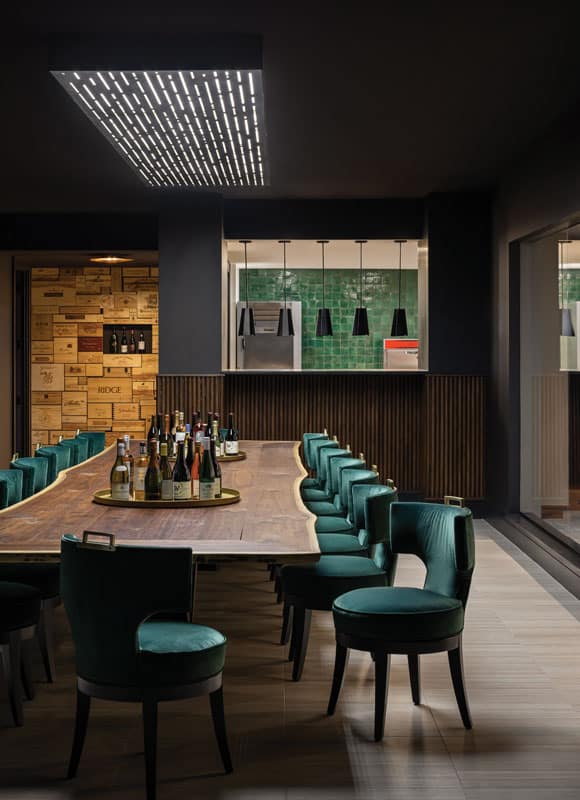 From the building aspect, Ryan and his team tackled the typical challenges of homebuilding but also the elements that add to the speciality—and complexity—of a home of this size and style. As is often the case in modern design, the simplicity of the look belies the complexity of the work invested in details. Right down to the sleek wide white oak on the casing trim.
"We flat-taped all the drywall to blend the trim and give it that modern feel," Ryan says. "There's a lot of extra work involved—believe it or not—in doing that, instead of putting wood trim around it, but it gives it a very clean look."
In a nod to one specific element of the Prairie style, a cantilevered portion of the main floor juts toward the water and creates a roof for a patio below. Supported by angled steel beams, it's a stunning piece of architecture. And it required Cecil & Ray's utmost expertise in understanding structure and building science.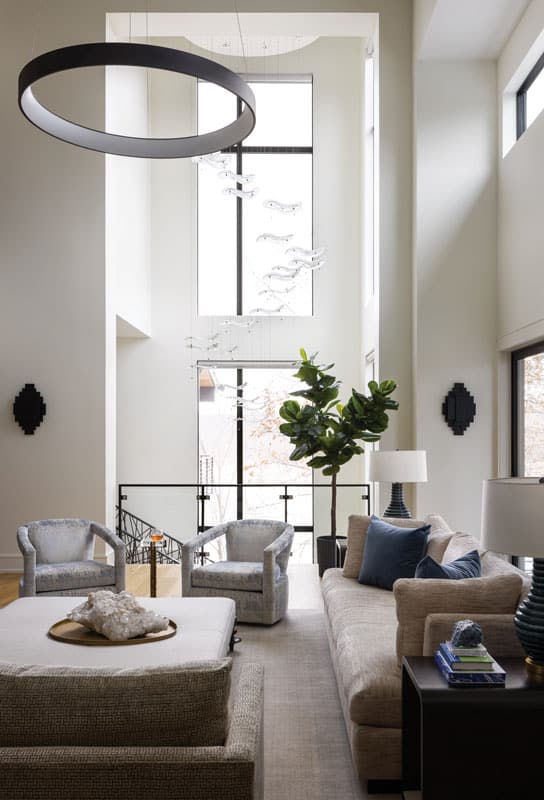 Jeremy and Nicki's home is connected underground to his parents' home by a basement level corridor that's full of surprises. A pool sprawls beneath the garage and, in another feat of building ingenuity, Ryan and his team installed skylights along the ceiling at the back of it. They draw sunlight down through speciality glass and precast-concrete pavers at street level to reflect off the pool's water below. "You actually drive over the skylights as you go into the garage," Ryan explains. "I think I can guarantee there's not another house in Kansas City with this feature." On the basement's walkout side, glass sliders can open fully to a patio that also overlooks the pond.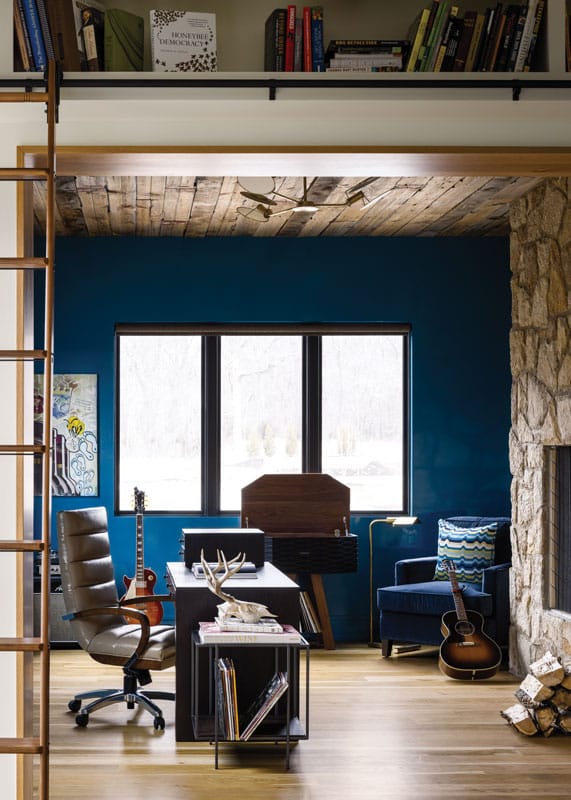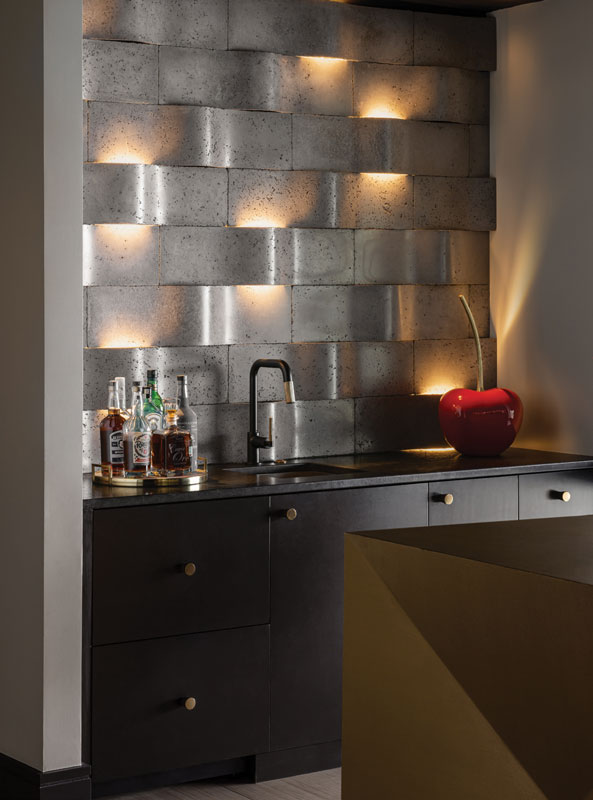 Past the natatorium, there's a full exercise gym, complete with a commercial water fountain. These amenities are not only enjoyed by the family but also by employees of the family business, Fry Orthodontic Specialists, and they can come and go via a private back entrance. It's this spirit of generosity that is the bedrock of the home.
"One of the biggest testaments to the Frys and what they stand for is that they hosted a party for everybody that worked on the house—electricians, plumbers, anybody who had their hands on it—they invited them and their families here to a barbecue so the trades could show off their work," Jessica says.
Above, left to right: (1) The custom faucet in the lower-level half bath actually comes down from the ceiling. It's plumbing drama worthy of the accompanying geometric natural-stone sink from Spain. (2) The texture of metallic starburst tile creates a playful backdrop for light and shadow in a main-floor half bath. Because the plumbing had to be set first, Sara and Jessica began most of the home's bathroom designs with an inspiring faucet, like this one with its bright red lever. (3) The primary bath's make-up vanity features a brass snake mirror for some unexpected style in the corner. (4) A window in front of the primary bath sink is a bold choice that offers views of the wooded property.

For Jeremy and Nicki, this comes from an open-hearted desire to share the enjoyment of their dream home with others around them. "At the end of the day, we're just extremely grateful, especially for this team of Noble Designs and Cecil & Ray, and everyone who has done such a phenomenal job," Jeremy says.
Rooted in nature and designed for gathering, the home is a reflection of a family with deep-seated ties to their land. An extension of its environment, an extension of the family who loves it.